São Paulo | Campinas | Salvador | Brasilia | Tokyo | Osaka | Milano
SINCE 1990
CAREFUL MEAT SELECTION
CUTTING RITUAL
COOKING METHOD
A TEAM OF EXPERTS
Respecting and valuing the plural, cheerful and historic culture of barbecue, Barbacoa brings together specialists to serve the best cuts from the best meats since 1990.
Meat prepared on fire, one of the oldest ways of cooking, awakens the feeling of joy of gathering people. The Arawaks Indians, in their moments of celebration, roasted meats over coals on a wooden grill called Barbacoa, an heritage that gave our house its name.
This memory of the Arawak people, the gauchos' tradition, the American barbecue, and the whole barbecue culture are present and are very respected in Barbacoa. Care with the selection and preparation of meat is also a mark of our service: we guarantee you the experience that only a good barbecue offers.
Reserve
The Menu
Our Meat
Salad Buffet
Wines & Beers
DESSERTS
Our Meat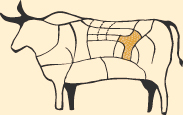 Alcatra
A Alcatra é um dos cortes mais versáteis para o churrasco. No Barbacoa Itaim, assamos a peça inteira no espeto, que reúne parte da Picanha, Maminha e o Miolo da Alcatra (Baby beef), resultando em um corte muito saboroso. O Miolo da Alcatra vai muito bem grelhado, e é assim que o servimos nas nossas casas a la carte.
Itaim Bibi (rodízio): Alcatra no Espeto
Casas a la carte: Miolo de Alcatra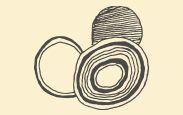 Carne Suína
De sabor inconfundível, a carne suína é hoje uma das mais consumidas no mundo, além de presente em muitas receitas da culinária brasileira.
Sua versatilidade permite diferentes preparos, desde embutidos como as linguiças, até peças inteiras na churrasqueira, como a Belly Rib à Pururuca e cortes grelhados.
Itaim Bibi (rodízio): Belly Rib a Pururuca, Costelinha e Linguiça
Casas a la carte: Linguiça e Picanha Suína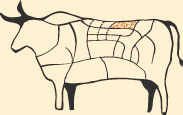 Contra Filet
Um dos mais conhecidos e saborosos cortes bovinos, da sua parte anterior, localizada próxima à traseira do animal, retira-se dois cortes que utilizamos nas nossas casas à la carte: o Bife de Chorizo e o Bife de Tira de Chorizo. Da parte posterior, retira-se o Bife Ancho ou Noix de Entrecote.
Itaim Bibi (rodízio): Bife Ancho
Casas a la carte: Bife Ancho (Noix de Entrecote), Bife de Chorizo e Bife de Tira de Chorizo (Morumbi e D&D)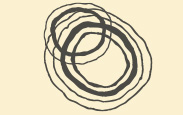 Cordeiro
Conhecido pelo seu sabor distinto e maciez, é uma carne cada vez mais presente nas mesas dos brasileiros e cada vez mais pedida por aqui. A Costeleta ou French Rack, seu corte mais nobre, é preparada no Barbacoa simplesmente com sal. Outros.
Itaim Bibi (rodízio): Costeleta, T-Bone e Paleta
Casas a la carte: Costeleta, T-Bone e Linguiça (Morumbi)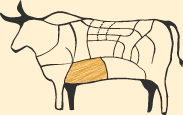 Costela
O quadro completo da costela, também conhecido como Costela Janela, é um dos destaques do nosso rodízio do Barbacoa Itaim. A peça assada inteira e em baixa temperatura por várias horas mantém a sua suculência e realça seu sabor.
Outro sucesso por aqui é o Assado de Tira ou Costela de Tira, retirado a partir de um corte transversal da peça.
Itaim Bibi (rodízio): Costela Janela (assada inteira) e Assado de Tira
Casas a la carte: Assado de Tira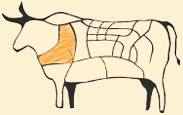 Costela Premium
Este corte especial é retirado entre a segunda e sexta Costela do boi, com parte do miolo do acém. Devido ao seu alto grau de marmoreio, a Costela Premium possui sabor e maciez únicos. É um corte muito apreciado pelos amantes de carne no rodízio do Barbacoa itaim.
Itaim Bibi (rodízio)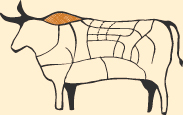 Cupim
Um dos nossos cortes mais pedidos no rodízio do barbacoa Itaim, o cupim é encontrado apenas em raças zebuínas e se destaca nas costas do animal formando uma bola de carne entremeada de gordura e bastante saborosa. A peça é assada inteira, por aproximadamente 4-5 quatro horas, enrolada em folha de celofane para ficar macia e manter a sua umidade e suculência.
Itaim Bibi (rodízio)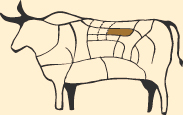 Filet-Mignon
Trata-se de uma carne extremamente macia por não ter nenhum contato com os membros do animal. O Filet mignon também é conhecido por ser uma carne magra e que, apesar da pouca gordura e marmoreio, possui boa irrigação, tornando-se muito suculenta.
Casas a la carte: Tornedor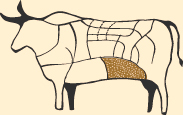 Fraldinha
Uma das estrelas do nosso churrasco, a Fraldinha possui fibras longas e alta irrigação, resultando em uma carne macia, suculenta e saborosa. Apesar da característica capa de gordura em uma de suas extremidades, é um corte com pouca gordura entremeada.
Barbacoa Itaim (rodízio)
Casas a la carte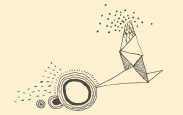 Frango
Uma das carnes mais consumidas pelos brasileiros, o frango está também entre as mais versáteis. No rodízio do Barbacoa Itaim, servimos o galeto, a coxa e o coração, as melhores opções para churrasco. Já nas casas à la carte, o galeto desossado é servido grelhado e é uma boa pedida para uma refeição leve e saborosa.
Barbacoa Itaim (rodízio): Galeto Desossado, Coxa e Coração
Casas a la carte: Galeto Desossado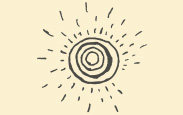 Javali
O Javali é a carne exótica mais conhecida e apreciada. Sua gordura se concentra em uma camada superficial, em vez de entremeada e seu sabor é bem diferente da carne suína comum. É uma delícia e vale a pena experimentar.
Barbacoa Itaim (rodízio): Costelinha
Casas a la carte: Costeleta / French Rack (Brasília, Morumbi e D&D) e Lombo (Campinas)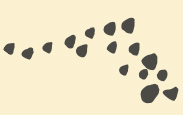 Peixes
Para os fãs de pescados, os peixes têm espaço reservado no cardápio das nossas casas à la carte do Barbacoa, como a Truta com amêndoas, o Salmão, o Pintado, a Pescada, o Linguado com alcaparras e o Bacalhau grelhado.
Barbacoa Itaim (rodízio): Salmão Grelhado
Casas a la carte: opções variadas em cada casa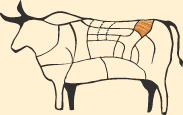 Picanha
Paixão nacional, a Picanha está entre as carnes mais pedidas por aqui. Macia e com boa marmorização, traz ainda uma grossa capa de gordura que garante suculência e acentua seu sabor. A peça permite diferentes cortes: o Bife de Tira, retirado do centro da peça e cortado longitudinalmente em tiras grossas; a Picanha Nobre, extraída da menor extremidade da peça; a Picanha de Bola, retirada da extremidade superior da peça e cortada com cerca de 4 dedos de espessura; e a Picanha Baby, retirada da parte lateral da peça em cortes com 2 cm aproximadamente.
Barbacoa Itaim (rodízio): Picanha de Bola, Picanha Nobre, Bife de Tira e Picanha com Alho
Casas a la carte: Bife de Tira e Picanha Baby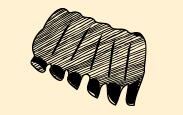 Prime Rib
Este saboroso e suculento corte com osso de origem americana é retirado da parte anterior do Contra filé. Também conhecido como Ancho com Osso ou Filé de Costela, o Prime Rib tem a vantagem de reunir no mesmo corte o marmoreio e a gordura entremeada nas fibras do Bife Ancho e o sabor especial que o osso confere à carne. Em nossas casas à la carte servimos o Prime Rib com aproximadamente 650g.
Casas a la carte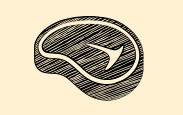 T-Bone
Este corte especial é muito apreciado pelos amantes de churrasco, pois traz a combinação perfeita entre duas partes nobres do boi: o miolo do Filé Mignon e o Bife de Chorizo. A união destas duas carnes, somada à presença do osso em formato de T e sua gordura lateral, proporciona diferentes sabores e texturas no mesmo corte.
Casas a la carte
Salad Buffet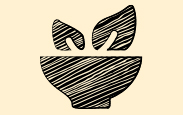 Salad Buffet
The Barbacoa Salad Buffet is one of the many delights that make us unique. There is always an enormous variety of beautifully presented fresh ingredients, guaranteed to satisfy even the most hard to please customer.
Thanks to our Quality Program observed by each and every one of our suppliers and to the daily delivery of the merchandise that supplies our restaurants, the Salad Buffet offers a wide range of greens and vegetables, first class conserves, cold cuts, seasonings, and special dressings to accompany the stars on the menu. It is also an excellent alternative for vegetarians or for those who prefer a lighter meal.
Wines & Beers
Wines
The Barbacoa wine list consists of a carefully selected range from the world's best and most traditional wine regions, wines that reflect the essence of their terroirs of origin. The choice is enormous ranging from Old World classics to icons of the New World. The focus here is on harmonization with the diversity of our meats.
Our wines are stored in temperature and humidity controlled wine chambers to ensure that each wine retains its original characteristics and quality.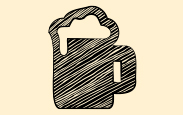 Beers
In our ongoing search to innovate and to delight our customers, Barbacoa introduced an innovation, one that fulfilled the wishes of its public – individuals seeking exceptional products and new experiences. Our menu now includes items that, hitherto, could only be found in specialized bars: a selection of the world's leading international beers.
The Barbacoa Special Beer List consists of the more highly prized international range of beers from Germany, the Czech Republic, Australia, Russia, and France, in addition to a number of Brazilian artisan beers. It also classifies and describes the main types that best harmonize with our meats. A highlight is the Wehenstephan Weiss, produced in Germany by the world's oldest brewery.
Each one of our restaurants has its own Special Beer List. Check it out; it's worth it.
DESSERTS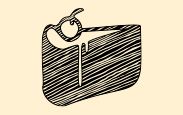 DESSERTS
Our dessert menu was developed to finish meals in a tasty way. We present recipes prepared with the best ingredients, and options based on chocolate, fruits, creams and other delicacies that guarantee a happy ending to your Barbacoa experience.
Our Address
Itaim Bibi

All-you-can eat

D&D Shopping

À La Carte

Morumbi Shopping

À La Carte

Salvador

À La Carte

Campinas

À La Carte

Brasília

À La Carte

Milan

All-you-can eat

Aoyama Tokyo

All-you-can eat

Shibuya Tokyo

All-you-can eat

Marunouchi Tokyo

All-you-can eat

Shinjuku Tokyo

All-you-can eat

Roppongi Tokyo

All-you-can eat

Takanawa Tokyo

All-you-can eat

Shinsaibashi Osaka

All-you-can eat

Umeda Osaka

All-you-can eat